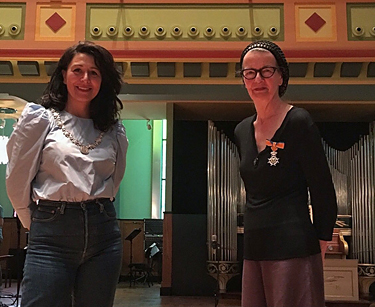 ©francesca patella
Ig has been awarded 'Ridder (Knight) in de Orde van Oranje Nassau'.
Right after her Composers Portrait concert at the Orgelpark on September 12 2021 the deputy mayor of Amsterdam Touria Meliani presented Ignatine Henneman the award for her great contribution in the field of contemporary and improvised music
Programma Componistenportret Ig Henneman 75

Wig Foundation
The Wig Foundation, lead by bandleaders-composers Ab Baars (tenor saxophone, clarinet, shakuhachi) and Ig Henneman (viola), promotes improvised- as well as composed music. Wig was founded in 1993 and has since produced 700 concerts and 31 CDs. During concert tours Henneman and Baars often give workshops and master classes.
Over the years Wig organized concerts, tours and projects for Baars and Henneman in collaboration with a long list of musicians, poets, dancers and visual artists.
see
collaborations
ANBI status
The Dutch Tax Administration has given the Wig Foundation the ANBI status, assigned to organizations for public welfare. This means private donations are tax deductible.
Dutch version