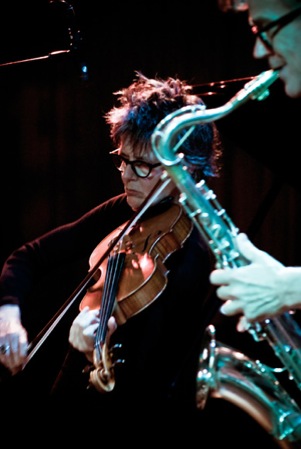 DUO BAARS-HENNEMAN
Ab Baars - tenorsax, clarinet, shakuhachi
Ig Henneman - viola
Ab Baars and Ig Henneman are among the leading representers of the jazz- and improvised music scene in the Netherlands. Their program contains improvisations based on compositions written by Baars and Henneman and completely improvised material.
The duo Baars-Henneman was born in Rome (IT) at the Festival "ControIndicazioni" in 1999.
Ab Baars and Ig Henneman have participated in international festivals and played venues as a duo and with their own groups. The duo toured in The Netherlands, Germany, Italy, UK, Japan, Norway, Czech Republic, Canada, Brasil and Romania.
CD
Canzoni di Primavera
(Wig 28, 2018)
CD
Trandans
with Dave Burrell (Wig 25, 2017)
CD
Autumn Songs
(Wig 22, 2013)
CD
Slipton
g with Misha Mengelberg (Wig 16, 2008)
CD
Stof
(Wig 13, 2006)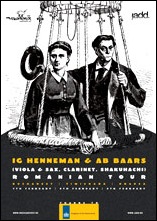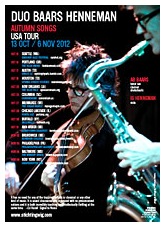 2020
Various streamed concerts at a.o. Sequester Fest and Catalytic Sound Festival in Chicago
2019
Recording at the Bernard Haitink Hall Conservatory of Amsterdam with violist George Dumitriu and cellist Pau Masafrets Sola culminating in CD Aforisme Aforismen Aforismes (ERR 32)
2019
Canadian tour duo Baars-Henneman and duo Freedman-Caloia and as quartet NAIL
2018
Duo tour and collaboration in Austria with pianist Elisabeth Harnik
2017
Canada tour of Perch Hen Brock & Rain 8 concerts
2017
Duo tour in Italy and collaboration with Italian musicians at Festival Contratempi (Noci)
2016
Duo invites pianist Dave Burrell (USA) to celebrate 25 years of Wig label. This culminated in the CD Trandans (Wig25)
2016
European tour with new program Canzoni di Primavera which culminated in CD Wig 28 Canzoni di Primavera
2015
The beginning of an ongoing collaboration with poet Anneke Brassinga. Performances in Germany and the Netherlands
2014
Duo Baars-Henneman collaboration with Tom Rainy and Ingrid Laubrock as Perch Hen Brock & Rain. European tour of 12 concerts which culminated in a live CD Live@The Jazz Happening Tampere (RPR1051/Wig26)
2013
Romanian Tour October 6-10 Bucharest, Timisoara and Oradea

2012
USA Tour 'Autumn Songs' with new work by Henneman and Baars inspired by autumn in all his facets
2012
concerts in The Netherlands and Canada

2011
Italy, Canada, The Netherlands, Brasil
2010
Norway festivals Stavanger and Molde, the Netherlands, Canada

2009
The Netherlands, Czech Republic


2008
Canada tour and composers in residence in the Leighton Artists' Colony at the Banff Centre
2007
UK tour, Japan tour and concerts in The Netherlands
2006
Japan tour, Sicily tour
2006
From Amsterdam to Palermo; a tour with different guests in every other city.
2000-2005
Italy concerts
(…) There's a breathless tension and expectation in these musical dialogues, as if neither participant has any idea what is coming next and the music trembles on the edge of revelation. It has no need for any of the trappings of jazz or classical or any other kind of music. It is sound discovered and organized with no preconceived notions and it is both incredibly touching and intellectually thrilling at the same time.
--Ed Hazell Signal to Noise #61 Spring 2011
(…) The music is often rarefied and brittle, so distinctly stripped back to the essence of air and friction but also materialised. The pieces have not been left as invasive flashes, nor are they a succession of unrelated ideas; they are recognisable attempts to construct something from nothing or almost nothing, to create on the spot, as well as to understand, support and where necessary contradict one's fellow performer in that creative process. What resonates is two voices that belong together without being completely subsumed by the other; they literally play with one another.
--Mischa Andriessen Ig Henneman 65, 2010
CD 'Stof'
(2006, Wig 13)
(…) Throughout these varied improvisations, the two voices are distinct, separate, but inseparable; their parts dovetail, rotate, evade contact, mesh. Confusing the perception of background and foreground, both spin out lines, either in layers or counterpoint, which may thin out or thicken, then splinter off into extended melody—which, in the subtle contemplation of light and shadow, tonal weight and restrained intensity, call to mind the pinpoint, nearly imperceptible clarity of lines on an Agnes Martin canvas. Likewise, emotion may be nearly imperceptible, but unavoidable as well. "Stof –to Eiske-," significantly the longest performance, allows clarinet and viola each an aria of loss; as they gradually gravitate towards the other, the mood grows inescapably tender. (…)

-- Art Lange