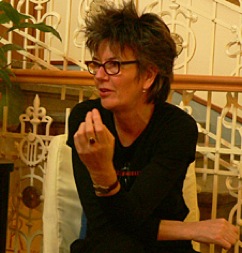 Ig Henneman (Haarlem, 1945)
Dutch musician-composer and bandleader Ig Henneman performs on viola, and writes compositions for orchestras, ensembles, soloists, including pieces for film and theater. As an improviser, she mainly focuses on the Ig Henneman Sextet, Duo Baars-Henneman and Perch Hen Brock & Rain.
Booklet Ig Henneman 65
cv
According to critic Ed Hazell "... an artist incapable of remaining satisfied with any music that lies strictly within the boundaries of any one style. Her working free of received wisdom to an individual voice and clarity of vision is the exhilarating story told by the discs. (…) it's a beautiful, functioning musical world all it's own that Henneman developed organically out of poetry, jazz, classical, improvised music—and birdsong. (…) Melodies were entirely her own, again blending an ancient and modern sensibility similar to the Tentet recording and using rhythm and nonstandard intervals to shape and color them. (…) Not that she doesn't have chops, but she seems determined to subvert classical notions of instrumental prowess in favor of a deliberately simple approach with more emphasis on timbre and more directly expressive (perhaps this is a legacy of her rock experience?) (…) Here the deliberately awkward rhythms, the dry textures and subdued colors of her playing, the concentration of thought and her ability to pare down to essentials take on an intense vulnerability and humanity.(…) It is sound discovered and organized with no preconceived notions and it is both incredibly touching and intellectually thrilling at the same time."
As of 1985, Ig Henneman leads her own groups, showcasing improvisers as well as her own compositions, in hundreds of concerts throughout Europe, North America, Brasil and Japan.
Some highlights:
• in her series 'Solo Songs for Instruments' Henneman wrote
In the Storm of Roses
–Solo Song for violin with improvisation– for the German violinist Ayumi Paul, and for Dutch violinist Diamanda La Berge Dramm. And
Ten Lines
–Solo Song for viola with improvisation– for Elisabeth Smalt (2014-2015)
• European 2014 tour with Perch Hen Brock & Rain a totally improvised quartet featuring Ab Baars, Ig Henneman, Ingrid Laubrock and Tom Rainey
• Duo Baars-Henneman 'Autumn Songs' USA Tour (2012)
•
Molot
for marimba-solo played by Fredrike de Winter (2010, 2011)
• Ig Henneman Sextet plays 'Kindred Spirits' (2010), recorded on Cut a Caper (Wig 19, 2011)
•
Chant
for violin and piano played by Heleen Hulst and Gerard Bouwhuis (2010)
• Henneman, Henneman & De Swaan, Henneman String Quartet with harpist Godelieve Schrama (2004), recorded on Strepen - Music and Image in Concert (DVD and CD, Wig 10, 2004) Henneman String Quartet on Italian music (2001), recorded on Piazza Pia (Wig 07, 2002)
• Henneman String Quartet plays Westwerk (1997), a project on medieval music and architecture
• Ig Henneman Tentet plays 'De nachtegaal tijdens de slaap' (1995), recorded on Repeat that, repeat (Wig 03, 1995)
• Ig Henneman Tentet plays Emily Dickinson (1993), recorded on Dickinson (Wig 02, 1993)
Self-taught composer Ig Henneman received some years of coaching by Dutch composer Robert Heppener. Since the nineties the music of the Russian composers Galina Ustvolskaya en Sofia Gubaidulina has been an inspiration for Henneman, who is attracted by the extremes of the former's structural severity and the latter's improvisational freedom.
As a five year old, Ig Henneman took piano lessons; at eleven she began to play the violin as well. At the conservatory, she initially studied the piano, later she majored on the violin, but ultimately the viola became her instrument. Ig Henneman played in several symphony orchestras before co-founding the legendary rockband FC Gerania, which performed Henneman's first compositions. One of her early works is the soundtrack to the 1927 silent movie Baby Ryazanskye by Olga Preobrasjenskaja. Nowadays she is renowned for being one of the 'New Dutch Swing' improvisers of the Amsterdam scene as well as for being a prolific and much sought-after composer. She performs at venues and festivals in Europe, Japan and North America. Grants and commissions were given her by the Fonds voor de Scheppende Toonkunst, the Amsterdams Fonds voor de Kunst, the Fonds voor de Amateurkunst en de Podiumkunsten and the Dutch Ministry of Culture.
So far, Ig Henneman has worked with improvisers such as Ingrid Laubrock, Tom Rainey, Dave Burrell, Misha Mengelberg, Alberto Braida, Han Buhrs, Axel Doerner, Martin van Duynhoven, Katrien Ex, Lori Freedman, Mark Helias, Tristan Honsinger, François Houle, Wilbert de Joode, Theo Jörgensmann, Takuji Kawai, Peggy Lee, Marilyn Lerner, Sabina Meyer, Michael Moore, Phil Minton, Ernst Reijseger, Roswell Rudd, Fabrizio Spera, Roger Turner, Veryan Weston, Wolter Wierbos, dancers Hisako Horikawa and Masako Noguchi and poets Anneke Brassinga, H. C. ten Berge and Diane Régimbald.
more details: see
cv
and
composer
Booklet Ig Henneman 65
CDs
Henneman Branch La Berge

Dropping stuff and other folk songs (RPR 1094,
Wig 29
) 2019

Duo Baars Henneman

Canzoni de Primavera (
Wig 28
) 2018


Queen Mab Trio

featuring Ig Henneman, Lori Freedman, Marilyn Lerner
Réunion (MKR 102) 2017
mikroclimat.com


Perch Hen Brock & Rain
featuring Ab Baars Ig Henneman Ingrid Laubrock and Tom Rainey
Live & The Jazz Happening Tampere (
RPR 1051
,
Wig 26
) 2016
Duo Baars-Henneman
Autumn Songs
(Wig 22)
2013
Ig Henneman Sextet
Live @ The Ironworks Vancouver
(Wig 21)
2012
Ig Henneman Sextet
Cut a Caper
(Wig 19)
2011
Ig Henneman
Collected
(Wig 18)
2010


Baars Henneman Mengelberg
Sliptong
(Wig 16)
2009
Duo Baars-Henneman
Stof
(Wig 13)
2006
Queen Mab Trio
Thin Air
(Wig 14)
2006
See Saw
(Wig 11)
2005
Henneman String Quartet
Strepen. Music and Image in Concert (CD+DVD)
(Wig 10)
2004
Piazza Pia
(Wig 07)
2002
Pes
(Wig 05)
1999
Ig Henneman Tentet
Indigo
(Wig 04)
1998
Repeat that, repeat
(Wig 03)
1995
Dickinson
(Wig 02)
1993
Ig Henneman Quintet
In Grassetto
(Wig 01)
1991
LPs
FC Gerania
Get the Knack (FC2) 1983
FC Gerania (FC1) 1981