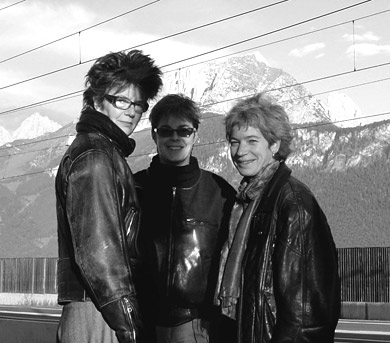 QUEEN MAB TRIO

Lori Freedman - basclarinet, clarinet
Marilyn Lerner - piano
Ig Henneman - viola


The trio explores the boundaries and shared space in and between the realms of composed and improvised music, drawing on their own diverse influences of jazz, musique actuelle, rock, new music, early music and 20th century classical music. The Queen Mab Trio has been creating and performing for almost six years now making concert tours across Canada, the USA and Europe.
A stellar trio featuring three of the most engaging, maverick improvisers working today, Queen Mab Trio bristles with electrifying, revolutionary delight. Lerner is a virtuosic performer who straddles the poles that bookend jazz-folk tradition and outright, defiant freedom. Henneman, like the best of the Dutch improvisers, has a jousting, fearless instinct and a refined sense of play that is aggressive as well as it is inviting. Freedman is simply one of music's more rivetting, incendiary forces – alternately muscular and seductive, conversational and bellowing. The trio's mind-expanding interplay and vivid mood-trafficking sound is utterly compelling. Chamber jazz for the fourth dimension.
-TD Willamette Week Portland


2008
Queen Mab Trio - Europe tour November December
Concerts in Italy, France, Denmark, Czech Republic, the Netherlands and the UK
> see concerts


2006
Queen Mab Trio - Lines of Descent- Europe tour
> see concerts archive via concerts
'Lines of Descent' is a program consisting of compositions and improvisations emanating from the diversity of the cultural backgrounds of the members of the Queen Mab Trio: Ukraine, Poland, Scotland, Canada and the Netherlands.


CD Thin Air
(WIG 14)
2005
Queen Mab Trio plays Thin Air - tour in the USA, Canada and Europe
> see concerts archive via concerts
For this project the Trio has created a program of new pieces, drawing from the Queen Mab Scherzo by Hector Berlioz for inspirational guidelines. The members of the Trio have contributed pieces that, while inspired by the Scherzo, reflect each composer's typical point of view and taste.
Berlioz's music offers a wealth of exploration for these three artists; his strikingly bold rhythmic articulations, his irregular and yet expansive melodies, the idee fixe, his freely contrapuntal textures and his unique instrumentation.
By using this nearly two hundred year old composition to spark the chemistry among themselves, the improvisers of the Queen Mab Trio bring an adventurous evening of new music to international stages.


CD See Saw
(WIG 11)


2004
Queen Mab Trio tour in the Netherlands
> see concerts archive via concerts


2002
Duo Queen Mab with guest Ig Henneman - Canada/USA
> see concerts archive via concerts

CD Thin Air
(WIG 14)
from the reviews:
This international trio's newest disc is as exciting and diverse as the music on which it is loosely based. (…) Each track mixes conventionalities with the recent codified language of Eurofree improv, and the juxtapositions prove that these three musicians are as comfortable "in the tradition" as with the full range of sonic possibilities their chosen instruments offer. The brevity of the dics is welcome, only as it cuts down on the chances of aimless meandering that can cloud otherwise succesful improvised music. While many have approached the classics in the spirit of decomposition and failed, Thin Air is a sprightly and continuously engaging achievement.

--Marc Medwin Cadence May 2007
(…) As the longstanding duo Queen Mab, bass clarinetist Lori Freedman and pianist Marilyn Lerner have developed an unique rapport that is both rigorous and nurturing. They hold each other's feet to the fire in their exacting ensembles, but there is also the palpable sense that they have each other's back when they go out on a limb in an improvisation. It's a very specific chemistry that Henneman supplements rather than disrupts, even when the two Canadians are at their most explosive, an occasional occurrence over the course of this scintillating album.

--Bill Shoemaker www.pointofdeparture.org Issue 9 - January 2007
(…) Something is up. I listen to the piece a few more times and at every turn I'm surprised at how easily they shift between styles. They're like a sly fox who's trying to outrun a wolf. Throughout the record, they take sudden shifts in direction at least half a dozen times. Every time this happens, you're left with a question mark smack in front of your face. Is theirs an exercise in confusion or are they deliberately playing every imaginable style of sound they can get their hands on? Regardless, interplay with each other is marvellously stated. From the crow-like clarinet guffaws, through to the pointed viola clicks, through to the understated piano caresses, these women are working on a higher plane in terms of communication.
--Tom Sekowski thewholenote.com/discoveries_march 2007
This is a fabulous trio of two Canadians and one Amsterdam native. Made up mostly of carefully composed pieces that shift textures and feature intricate group interplay, "Thin Air" is a great example of how many musical situations are possible with only three creative musicians.
--Picks of the week for January 29, 2007 Chicago Sound Radio WNU
Each piece on this marvelous disc is a thoughtful and provocative work, endlessly fascinating in many ways. -
--Downtown Music Gallery NY February 17 2007 BLGallanter
(…) With several records already in their discography this band's compositional style is strong, as is the communication between the players, making for an excellent and recommended release.
--Unusual & Experimental Music www.squidco.com
concert reviews:


Portland May 13, 2005
(...) a magnificent improvising chamber trio of the highest order. Utilizing ideas and energies from a wide array of musical disciplines they presented an exciting program which was very original and accomplished.
--Brad Winter Cadence July 2005
Seattle May 14, 2005
(…) One of the beauties of this band is that it combines qualities stereotypically associated with women - cooperation, deference and blending in - with ones assigned to men - aggression, structural rigor and a lack of sentimentality. It's an unbeatable combination.
Paul de Barros Seattle Times May 2005
Ottawa Jazz Festival July 1, 2005
(…) At times intensely cerebral, elsewhere more purely visceral, Queen Mab was an interesting counterpoint to Evan Parker's waves of sound and Roscoe Mitchell's more Afro-centric quintet performance. A fitting conclusion to a short but intriguing series that has hopefully been successful enough to encourage festival organizers to continue bringing this kind of left-of-centre music to the festival in future years.
John Kelman All About Jazz
Montreal Festival International de Jazz July 4, 2005
(...) Other festival highlights included Italian trumpeter Enrico Rava's radiant Quintet, Zakir Hussain's stunning duets with guitarist John McLaughlin, Randy Weston's trio, and the exquisitely edgy Queen Mab Trio.
Larry Appelbaum Jazznin Japan
CD See Saw
(WIG 11)
from the reviews:
(...) Questions of composition and improvisation aside, what defines See Saw is the level of minute interactions, the devastating passion motivating each note, and the number of ideas per minute, all key traits of Queen Mab's music.
François Couture All-Music Guide
(…) Queen Mab Trio have a well-defined identity, yet the music is continuously allusive, evoking diverse compositional styles extending from Erik Satie to Louis Andriessen, suggesting awareness too of non-European musical traditions. There's an indebtedness to free jazz energies and techniques as well as more preconceived jazz structures and conditions of virtuosity.
Julian Cowley The Wire September 2005
(...) Pour évoquer ce qu'on entend là j'aimerais convoquer Gérard de Nerval dans son poème le plus célébre, parlant des "soupirs de la sainte et les cris de la fée".
Noël Tachet ImproJazz Mai 2005
(...) Queen Mab is famous for raising eyebrows. In their ten year existence, they have solidified themselves as a driving force in the Canadian avant-garde music scene.
- Sarah Petrescu, the Martlet, November 2002
(...) Henneman fits nicely into this modest, though skillful scheme of things (...) she draws a useful variety of unconventional sounds with the gentle bounce, scrape and stroke of her bow. Some are scrawny, some have a Dietrich-like smokiness. Some sound like a squadron of mosquitos, some create tension with their flirtatious intonation.
- Mark Miller, The Globe and Mail, November 4, 2002