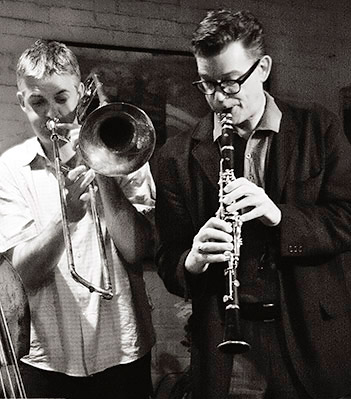 Duo Baars Buis
Ab Baars and Joost Buis are great admirers of Duke Ellington. The apparent simplicity and the clearness of his compositions have had great influence on both players and have shaped their musical worlds.
The duo performs a program inspired by the Duke: well-known and lesser known Ellington pieces, characteristic fragments, famous solos and catchy riffs will be arranged or re-composed as points of departure.
CD Duo Baars-Buis
Moods for Roswell
(Wig 30) 2020
Ab Baars and Joost Buis are established names in the Amsterdam jazz and improvised music scene, Baars as a reeds player/composer for among others Duo Baars-Henneman and ICP Orchestra and Buis as a trombone player and founder of the Astronotes tentet. In the past the Ab Baars Trio has performed the Ellington-program Kinda Dukish in collaboration with Joost Buis.