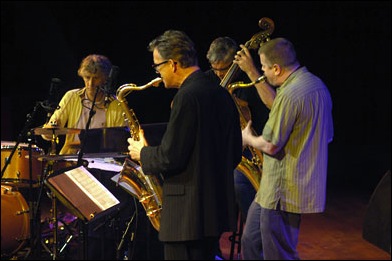 Ab Baars – tenorsax clarinet
Ken Vandermark
– tenorsax, clarinet
Wilbert de Joode – bass
Martin van Duynhoven - drums
Ab Baars Trio & Ken Vandermark
Amsterdam meets Chicago
European Tour 2007 September 27 – October 21,
see concerts
North America Tour 2009 April 2 – 25,
see concerts
Over the years, Ken Vandermark and Ab Baars often met – they only ever once played together. On November 14th, 1999, they performed at the Empty Bottle in Chicago. Ab: 'Like a longstanding duo we worked ourselves through the set, almost inadvertently confronting the forces of drummers Han Bennink and Hamid Drake. A sweeping night!'
It was about time to invite Ken as a guest to the Ab Baars Trio. He will carry a bit of Chicago with him: the legendary jazz tradition of that city, mingled with European influences that have come to affect his music in recent years.
And the Ab Baars Trio? After seventeen years it sounds more vital, more idiosyncratic, more poetic and exciting than ever, with Ab Baars (tenor saxophone and clarinet), Martin van Duynhoven (drums) and Wilbert de Joode (bass).
>
stichting wig