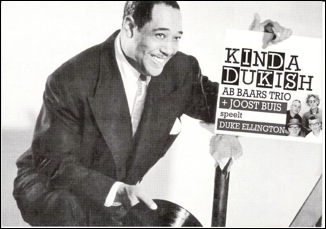 KINDA DUKISH
Ab Baars Quartet plays the music of Duke Ellington
Ab Baars - tenor saxophone, clarinet
Joost Buis - trombone
Wilbert de Joode - bass
Martin van Duynhoven - drums
A program of compositions and adaptions of compositions by composer, bandleader and pianist Duke Ellington.
Well known and lesser known compositions, characteristic fragments of compositions, parts of a melody, a riff, a well known solo will be reworked or recomposed and act as a startingpoint for new compositions and improvisations
Guest on this special project will be trombone player and Ellington 'connoisseur' Joost Buis.
Ab Baars; "For years now I have been listening to the music of Duke Ellington. To me his music is a source of inspiration. The apparent simplicity, the clearness of his music and the compositional thinking in his improvisations are important to my musical thinking, they shaped my musical outlook".
>
stichting wig