BaarsBuisDeman


Ab Baars - tenor saxophone, clarinet, shakuhachi
Joost Buis - trombone
Berlinde Deman - tuba, serpent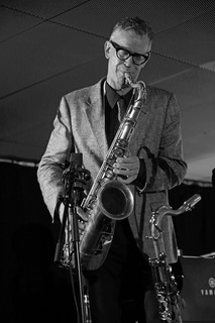 The combination of three horns can suggest the festive, staccato energy of a marching band, the steaming front line of a New Orleans jazz ensemble or maybe… just three people breathlessly waiting for a rhythm section. This trio is something else. BaarsBuisDeman is nothing less than a veritable dream ensemble, capable of an infinite array of sound colors, from the lowest tuba-low to the highest shakuhachi-high and all (well, most of) the sounds in between.


The trio plays compositions by Ab Baars - whimsical, lyrical, crazy and unruly - as well as spontaneous open improvisations. The result is a slightly askew kind of chamber jazz, revelling in the free and spontaneous, while avoiding the heavy-handed and predictable. Instead, it might resemble a humorous dance, involving graceful movements and sudden feints, with occasional hints to the jazz book and the spirit of reinvention throbbing with stubborn dependability.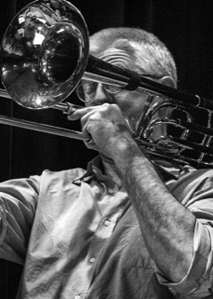 About the musicians:

In addition to permanent and long-term ensembles such as the ICP Orchestra, his own trio and a duo with composer/viola player Ig Henneman,
Ab Baars
is always developing new, small-scale initiatives. He has had a strong musical relationship with trombonist
Joost Buis
for a long time, dating back to an Ellington-project by the Ab Baars Trio in 2005: Kinda Dukish. The pair still play, wherever they can, as a special duo. In 2020, they released Moods For Roswell, an album with inspired Ellington/Strayhorn-interpretations, dedicated to the late, great trombone master Roswell Rudd.


That duo has now expanded into a trio,
with the addition of Belgian tuba player
Berlinde Deman
.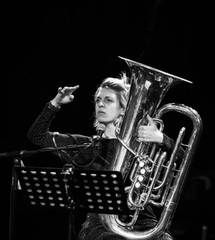 She is mainly known from the great orchestra Flat Earth Society, but she recently also made an impression as part of the 'Secular Psalms'-project by American trumpeter Dave Douglas. There she could also be heard on serpent, a medieval predecessor of the tuba. On both instruments, she offers Baars a wonderful addition to the sound palette of his compositions.